Angel View Outreach
There's no greater challenge than being the single parent of a child with a disability. Conflicting stressors make functioning nearly impossible for those without basic life skills.
We've added a Family Stabilization component to our Outreach Program for children with disabilities. Our bilingual outreach specialists will provide critical training on calendaring healthcare appointments and arranging transportation, sharing time and energy with all children in the household, and budgeting/shopping to enable better food choices.
$10,000 helps us hire an administrative assistant.
$5,000 helps us educate parents.
$2,500 helps transport kids to medical appointments.
$1,000 helps purchase program supplies.
Three days before his 18th birthday Francisco was in a car accident. The driver was unhurt, but Francisco, who attended Palm Springs High School, suffered a traumatic brain injury. Since then, he's lived with his parents, who along with his siblings, provide his care.
Now 37, Francisco attends the Angel View Day Program for adults with intellectual disabilities. One of his accomplishments is his improved punctuality. He's ready each morning when our driver picks him up. These days, instead of sleeping in, Francisco enjoys companionship, recreation and therapeutic activities. He's learning work skills like document shredding that will enable him to participate in our new work placement program. He can't wait!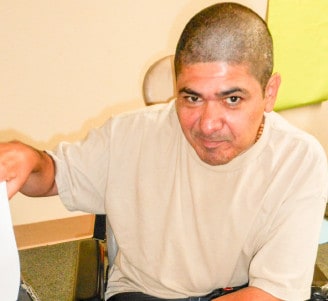 CONTACT US FOR MORE INFORMATION
We sincerely appreciate your generosity!