Angel View's mission is helping children and adults with disabilities reach their maximum potential.
Each year, we help hundreds of people make significant gains toward independence through three primary programs: Residential Care, Day Program and Angel View Outreach. We accept clients without regard to race, color or national origin; we make every effort to accommodate our clients' cultural and religious customs.
As a 501(c)(3) non-profit organization (tax ID # 95-1861861) dedicated to enhancing our clients' quality of life through innovative programs and frequent outings, Angel View relies heavily on grants and donations. We receive Medi-Cal funds for some client services, but our care exceeds our level of reimbursement.
Your support is appreciated!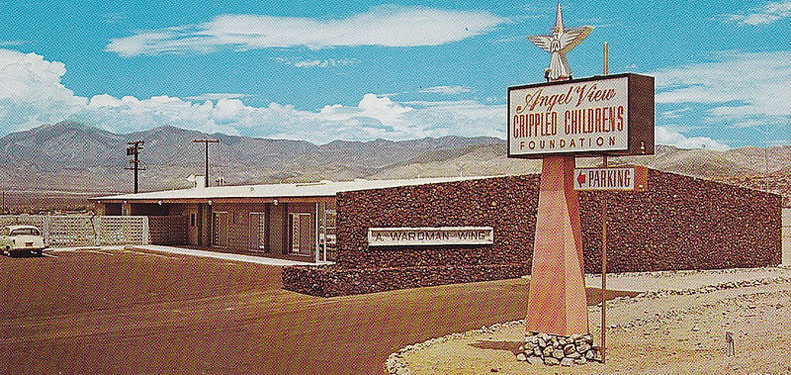 Angel View was founded in 1954 on a natural hot mineral water spring in Desert Hot Springs, CA by a group of parents whose children suffered from polio. The therapeutic waters, considered among the highest quality in the world, soothed the children's aches and pains and helped in their rehabilitation.
The visionary founders named the new charitable foundation Angel View after a naturally occurring rock formation at the base of Mt. San Jacinto. With dedication of purpose and generous supporters from local communities, a 52-bed rehabilitation hospital was constructed on donated land on Miracle Hill Road.
Originally, clients were cared for at this facility which now serves as the headquarters of Angel View's therapeutic Day Program.
When polio was eradicated, Angel View expanded its treatment program to care for children and adults with intellectual disabilities, most of whom also have physical disabilities. Many of our clients have some form of paralysis; approximately 70 percent require the use of wheelchairs.
Since those early days, Angel View has built and currently operates six-bed residential group homes where clients receive loving care in family-like environments. For many years, residential care was our only service.
However, to keep pace with changing community needs, in 2008, Angel View launched a Day Program for adults with intellectual disabilities from throughout the Coachella Valley. The program has been so successful, it's been expanded three times.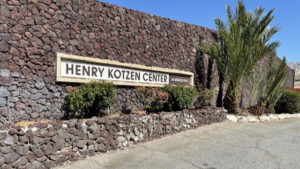 Most recently, to assist families struggling to raise children with disabilities, we started Angel View Outreach, which provides essential support and services at no cost to families. The program is funded entirely by donations.
Since the outset, Angel View has raised funds for its programs by operating Resale Stores.
Starting in the 1960s with one shop in Palm Springs, originally run by the Auxiliary, Angel View has developed a thriving network of  14 Resale Stores throughout Riverside and San Bernardino counties. A massive Clearance Center is located in Desert Hot Springs. Proceeds from store sales are a critically important source of funding that enables us to provide our clients with a better quality of life.
Angel View is committed to monitoring community needs and providing services to care for individuals with disabilities. To accomplish this mission and ensure long-term sustainability, Angel View's leadership undertook a comprehensive strategic planning process.
This strategic plan defines Angel View's future direction and provides a roadmap for building capacity. The plan will help us achieve our vision of being a premier provider of compassionate and quality services for people with disabilities.
To learn more about us, please browse this site for our newsletters.  If you have questions, please email us at info@angelview.org